Administration for Community Living (ACL)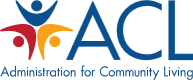 The Administration for Community Living was created around the fundamental principle that older adults and people of all ages with disabilities should be able to live where they choose, with the people they choose, and with the ability to participate fully in their communities.
Amy Wiatr-Rodriguez, Regional Administrator
Services
Advocacy Services
ACL advocates across the federal government for older adults, people with disabilities, and families and caregivers; funds services and supports provided primarily by states and networks of community-based programs; and invests in training, education, research, and innovation. ACL manages a variety of programs that focus on health and wellness, protect rights and prevent abuse, support consumer control, strengthen networks of community-based organizations, fund research, and more.
Eldercare Locator
The Administration for Community Living offers a nationwide referral service that connects individuals to State, Tribal, Area Agency on Aging (AAA) and local service providers. The Eldercare Locator can be utilized online at eldercare.acl.gov or toll-free at 800-677-1116.
Last Updated:
07/07/2021 at 10:14 AM