Iroquois-Kankakee Regional Office of Education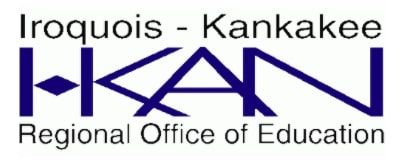 The I-KAN Regional Office of Education works with school districts, educators, parents, community members and business leaders to meet the educational needs of children. The office serves as a liaison between the Illinois State Board of Education and the citizens of Kankakee and Iroquois counties.
County, Educational Institution
Kankakee & Iroquois Counties
Brenda Wetzel, Life Education Center Programs Director
Frank Petkunas, Superintendent of Schools
Services
After-School Programs
The Teen REACH program seeks to help participating youth develop positive expectations for their future success through structured activities during out-of-school time. The purpose of the programs is to increase academic success and to reduce a myriad of risk-taking behaviors.
Attendance Assistance Program
The I-KAN Attendance Assistance Program helps students stay in and graduate from school by providing prevention and intervention services to students and their families. The program serves 19 school districts in Kankakee and Iroquois counties.
High School Equivalency
The high school equivalency program is a recognized alternative to a high school diploma. The Regional Office of Education has designated Kankakee Community College as the testing agent for this purpose. Completed GED records for Iroquois and Kankakee counties are kept at the Regional Office of Education.
Life Education Centers
The Regional Office of Education, in cooperation with the Pledge for Life Partnership operates the Life Education Center. The Life Education Centers' substance abuse prevention programs teach kids the skills they need to choose healthy lifestyles and avoid the dangers caused by abusing alcohol and other dangerous substances. Beginning in kindergarten and continuing throughout high school, the LEC's curriculum uses age-appropriate material to teach students about the human body and how it works; good nutrition and exercise; the harmful effects of alcohol, tobacco and other substances; and teaches the skills students will need to deal with pressures from peers and society.
Petition Hearings
It is the responsibility of the Regional Superintendent as Secretary of the Regional Board of School Trustees to process all legally drafted petitions dealing with territory, boundary and reorganization of school districts.
Professional Development
I-KAN Regional Office of Education provides quality professional learning and school improvement in Iroquois and Kankakee counties. I-KAN's professional learning opportunities are based on the Learning Forward Professional Learning Standards. I-KAN offers trainings to accommodate the needs of teachers, administrators, social workers, psychologists and instructional coaches, as well as other education professionals.
Public School Life Safety Inspections
The Regional Superintendent of Schools is responsible for statutory compliance with established standards in the construction and remodeling of public school buildings. The Regional Superintendent assures school board approval by resolution of construction plans, review of plans for code compliance, issuance of the building permit and, upon review, issuance of school occupancy permits. The I-KAN office has the responsibility of conducting a Life Safety Inspection of each public school building on an annual basis. All buildings are inspected and reports are filed with the respective Board of Education and the State Board of Education.
Regional Alternative Attendance Center (RAAC)
The I-KAN Regional Alternative Attendance Center (RAAC) provides an alternative setting for students who are experiencing attendance, academic and/or behavioral difficulties. The RAAC serves 15 different school districts from both Iroquois and Kankakee Counties. The goal of the RAAC Programs is to have students successfully transition back to their home school.
School Bus Driver Certification
I-KAN Regional Office of Education offers the initial 8-hour new school bus driver safety course and 3-hour refresher course for bus drivers to obtain and renew their bus permit.
Students All Learning Together (SALT)
Students All Learning Together (SALT) program provides optional educational opportunity for students who are credit deficient due to attendance problems. The program provides both an academic and community service/work component.
Teacher Licensure
I-KAN's office monitors teacher and administrator licenses for approximately 2,100 educators in Iroquois and Kankakee counties. Determining proper teacher licensure and endorsement requirements has been a major responsibility of the office, done in conjunction with ISBE.
Last Updated:
04/13/2023 at 08:56 PM