Iroquois-Kankakee Regional Office of Education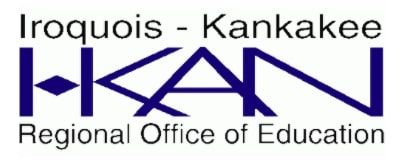 Serves as a liaison between the Illinois State Board of Education and the citizens in Kankakee and Iroquois counties. The Regional Office of Education works with school districts, educators, parents, community members, and business leaders to meet the educational needs of children. While supporting the value of life-long learning, the primary focus of the office is related to the kindergarten through high school educational needs of the community.
Kankakee & Iroquois Counties
Jeff Boudreau, Technology Director
Brenda Wetzel, Life Education Center Programs Director
Gregg Murphy, Regional Superintendent of Schools
Frank Petkunas, Assistant Regional Superintendent of Schools
Services
After-School Programs
The Teen REACH program seeks to help participating youth to develop postitive expectations for their future success through structured activities during out-of-school time. The purpose of the programs is to increase academic success and to reduce a myriad of risk-taking behaviors. Supervised activities include academic assistance, sports and recreation, adult and peer mentoring, and life skills education.
Attendance Assistance (Truancy Prevention)
The I-KAN Attendance Assistance Program helps students stay in and graduate from school by providing prevention and intervention services to students and their families. The program serves 19 school districts in Kankakee and Iroquois counties which includes a total population of approximately 24,000 kindergarten-12th grade students, more than 2,100 teachers and over 60 building principals.Truancy Prevention initiatives include the Miss School ... Miss Out campaign. "Miss School ... Miss Out" is the mantra of the I-KAN Regional Office of Education's Attendance Assistance Program staff who make it a point to recognize area students who make it through an academic quarter with perfect attendance.
High School Equivalency
The program permits individuals to complete a series of examinations to show proficiency and earn their High School Equivalency Certificate. The Regional Office of Education has designated Kankakee Community College as the testing agent for this purpose. A graduation ceremony is held each spring at Kankakee Community College to honor those who have received their diploma.
Life Education Centers
The Regional Office of Education, in cooperation with the Pledge for Life Partnership operates two Life Education Centers.The Life Education Center educators utilize two mobile classrooms to instruct Kindergarten-High School students in Kankakee and Iroquois County public and private schools on drug prevention and health promotion topics. The mobile classrooms were purchased through fund-raising efforts. The curriculum, which utilizes high-technology, teaches drug abuse resistance through respect for one's person and health.Each year the Life Education Center sponsors two contests: The BEST PRACTICE CONTEST is for more than 600 of its participating teachers. Designed to bolster the lessons taught in its curriculum, monetarty awards are presented to teachers who develop creative reinforcement activities for their students. The BILLBOARD CONTEST enlists the talents of the Life Education Center's 5th and 6th grade students to assist in promoting its anti-substance abuse message. Incorporating the theme of "Wise Highs...Choices You Can Live With!" students develop artwork that will be used for publication on billboards throughout Kankakee and Iroquois counties.
Petition Hearings
It is the responsibility of the Regional Superintendent as Secretary of the Regional Board of School Trustees to process all legally drafted petitions dealing with territory, boundary and reorganization of school districts.
Professional Development
Numerous workshops and trainings are offered by the Regional Office. Complete listings and updates are posted on the I-KAN ROE website. PROFESSIONAL SERVICES - The Regional Office provides consultants to provide job-embedded professional development, coaching services and other resources to the 19 school districts in Iroquois and Kankakee counties.
Public School Life Safety Inspections
The safety and welfare of students is of prime concern to the boards of education and administrators of Iroquois and Kankakee counties. This office has the responsibility of conducting a Life Safety Inspection of each public school building on an annual basis. All buildings are inspected and reports filed with the respective Board of Education and the State Board of Education.
Regional Alternative Attendance Center (R.A.A.C.)
The I-KAN Regional Alternative Attendance Center (RAAC) is a non-traditional setting that allows at-risk youth to reach their potential. This program provides a stable environment conducive to learning for students in grades sixth through twelfth. The educational needs of these students will be met through: engaged learning opportunities in core curriculum areas; small group and individualized instruction; removal from violence-provoking environments; and training in conflict resolution, self-esteem enhancement, and social skills development. Due to discipline or behavioral related issues, I-KAN RAAC students have experienced difficulty with academic success. Their inappropriate behavior has significantly disrupted their educational process and/or the educational process of their classmates. The I-KAN RAAC program offers students an alternative to suspension or expulsion, and an opportunity for academic success. The three primary objectives of the I-KAN RAAC program are as follows: (1) to help identified students manage their own behavior to improve their ability to work well with others, (2) to help identified students develop the necessary academic skills to continue their education, and (3) to help identified students develop life/work skills to gain meaningful employment or career advancement in order to become productive members of the community.
School Bus Driver Certification
Each new school bus driver must attend an initial 8-hour safety course and all drivers must attend a three-hour refresher course each year in order to renew their bus permit. The Regional Superintendent is responsible for these trainings. The Regional Superintendent must also insure that the instructors for these classes are properly qualified and that all documentation of training is properly maintained.
School Recognition
The Regional Superintendent and the Assistant Superintendent conduct compliance reviews of school districts within the county in order to determine if such schools are meeting required standards for the State Board of Education recognition purposes. The districts in the I-KAN Region are on a five year compliance review cycle.
Teacher Licensure
Determining proper teacher licensure and endorsement requirements have been a major responsibility of the office, currently done on-line in conjunction with ISBE.
Last Updated:
11/13/2020 at 11:09 AM